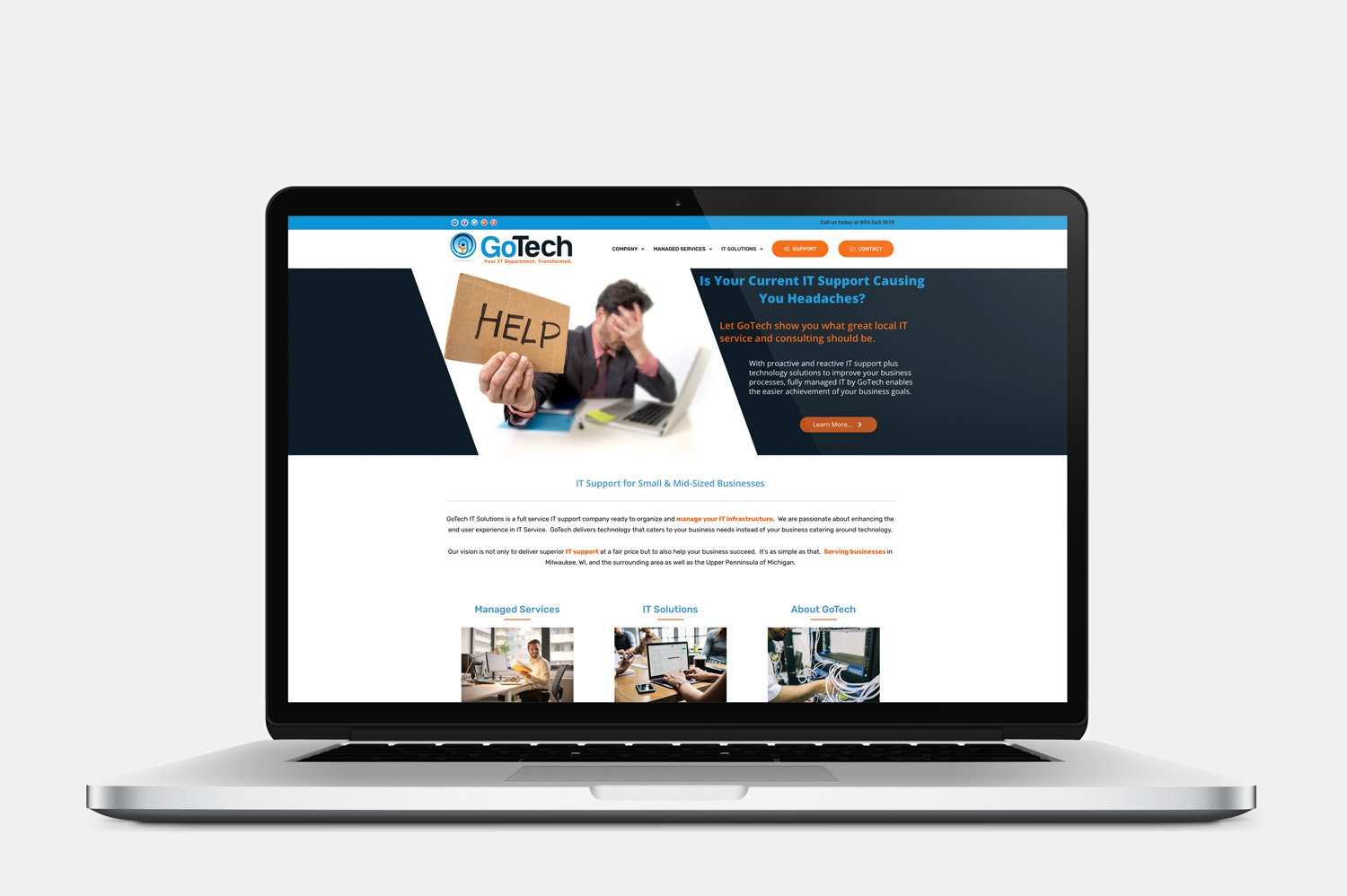 We've redesigned our website with you in mind.
GoTech is proud to launch our newly redesigned website, gotechitsolutions.com. The primary objectives of our site redevelopment effort were focused on aesthetics, simplifying our content, and providing our visitors an easier way to learn more about GoTech IT Solutions. The new design also allows for streamlined menus, clear navigation, and a responsive layout for all platforms.
Chris Gotstein, President and Lead Consultant explains the drivers behind the redesign:
We had not done a refresh on our marketing since launching GoTech in 2013.  With the opening of our new location in Hales Corners, WI and bringing on our new Marketing and Sales Director, we decided to make significant updates not only to our website, but our overall company branding as well.  This included transitioning from the gotechsolves.com domain to gotechitsolutions.com as well as moving our email to gotechits.com.  We have also put forth a consistent marketing message that reflects the culture of GoTech and our dedication to the customers we serve.
Among the new features the site contains integrated social media buttons for Facebook, Twitter, Google+, YouTube, and LinkedIn to foster improved communication. We will be updating our content regularly with helpful information, articles, blogs, newsletters, company announcements and client successes in the News section. Please take a moment and explore our site to learn more about our full spectrum of IT solutions!
We welcome any questions, suggestions, feedback or comments, please Contact Us.
With offices located in suburban Milwaukee, Wisconsin and the Upper Peninsula of Michigan GoTech IT Solutions has been providing best in class IT services since 2013. Specializing in service to small to mid-sized businesses, we are passionate about enhancing the end user experience in IT Service. GoTech delivers technology that caters to your business needs instead of your business catering around technology.