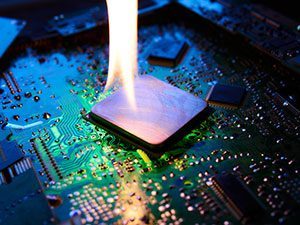 The dog days of summer are here, and it's hot out! Homeowners and business owners alike are bracing for their upcoming power bills as they run their air conditioners around the clock trying to keep cool. But for many business owners, it's not just about keeping your team cool – it's also about keeping your technology cool.
Every piece of technology you use is susceptible to heat damage. Sometimes they overheat due to internal issues. Maybe they're processing a lot of data. Or maybe the internal cooling system isn't enough. But they can also overheat due to external issues, such as high summer temperatures and inadequate air conditioning.
If heat overwhelms your systems, it has the potential to knock out your business. If computers go down or servers can't run efficiently due to heat, it can be a costly disaster. The average computer is built to work in external temperatures of 50 to 82 degrees Fahrenheit. Laptops and tablets can handle 50 to 95 degrees Fahrenheit.
Every business should be aware of just how much damage heat can cause. For example, heat can damage individual components in your devices. There are records of graphic cards bursting into flame as a result of overheating and heat-related electrical issues. These components are designed to withstand high heat, but they can only take so much.
Heat can also disrupt productivity. It's one thing if your business is warmer than usual and you have fans running. It can make work harder. But heat slows down devices. They cannot run as efficiently and, as a result, programs and apps will struggle to run. In some cases, they might not be able to run at all because they require a certain amount of data processing that is negatively impacted by too much heat.
If your systems are disrupted or damaged, you can also lose critical data. Heat can damage hard drives and solid-state disk drives, leaving you without access to your data. Sometimes, with proper cooling, this data can be recovered, but if the heat and damage persist, the data may be unrecoverable if you don't have a backup.
What's the next step? Every business needs to fully understand its cooling needs. It's one thing to cool people working in an office. It's something else entirely to cool a server room. Ask yourself questions like:
Does your business have adequate and efficient air conditioning?
Does your technology (such as a computer or server room) have adequate air conditioning?
Do individual devices have adequate cooling (have employees complained about weird app slowdowns)?
On top of this, it's critical to ask questions about your data security needs:
Do you keep all of your data on-site?
Is your data protected from natural disaster or outside intrusion (have you invested in cyber security)?
Do you have a plan if your data is damaged or lost?
Do you routinely back up your data to the cloud or another off-site solution?
You never have to compromise your data or your business. There are countless solutions on the market today to help you protect your most valuable assets – and to help with your technology cooling needs. As you navigate the dog days of summer, remember you have options. A managed services provider (MSP) or an experienced IT services firm can help you determine if your tech is as cool as it should be. They can help you ensure the longevity of your technology and keep your data safe.